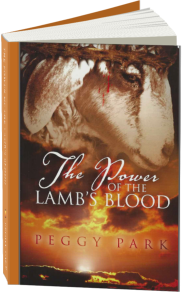 Book $18.00
Shipping & Handling included
KY residents subject to sales tax.
The Power of the Lamb's Blood
Published: 2004 || Format: Book and eBook || Page Count: 126 || ISBN: 1-57921-728-1
One of the greatest mysteries of the Christian faith is the cleansing power of the blood of Jesus and its vital role in our salvation. Now through this in-depth study on the blood of The Lamb, we discover just how deep the blood flows and how it affects every area of our lives. Limited Book Copies Available — Buy Your Copy Now While Supplies Last!!
Reviews
"Unparalleled. Beyond must read. Every believer should want to read this. There has never before been such an in-depth study of the Blood of the Lamb –a previously untapped, underestimated topic."
— Dudley C. Rutherford, Senior Pastor
"Peggy Park reminds us that the blood is a mighty force of protection as the believer declares his faith in the blood of Jesus."
— Kay Frost, Women's Ministry
"Powerful words to describe a powerful subject. Peggy Park weaves together the imagery of the Old Covenant with the spiritual truths of the New."
— Rev. Tommy Hays, Messiah Ministries